Zu 'Anaconda' Heels – Size 10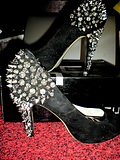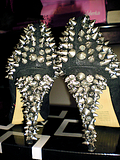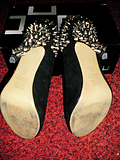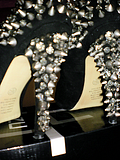 Will most likely put these on ebay but thought I would try here first. These shoes are, well, the love of my life. Having said that I found that they are just that bit too big for me. I'm normally a 9 1/2 but this brand didn't do half sizes and, well, yeah, the rest is history. I got shopping happy, got them anyway and have seriously worn them once for a birthday dinner were I was in a cab, sitting in the restaurant, and back in a cab.
They are in PERFECT condition. No stones missing, no scuff marks on the sides. There is light wear on the bottom but nothing more than you would expect from one nights wear. They come in their own box and include replacement heel tips as well. The only thing that is not factory sealed about them is the zebra print insoles. Up to the buyer if you want to rip them out or not.
Retailed for over $300.
Price: $180
Sex Pot Revenge Fedora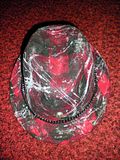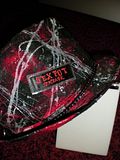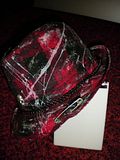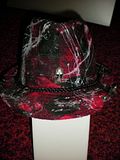 I love this hat. I got it on my very first trip to Japan in October 2009 and wore it for V-rock Festival. I owe this hat a lot when it comes to the crazy good luck it brought me there however, like all good things I think it is time to pass the magic on.
My dream for this hat is to go to a younger version of myself. Someone who is not going to emo it up and instead pair it with long curls, heels, fake eyelashes and gutter trash Japanese skills. Believe me, it will get you noticed and Hazuki may even say hi.
Obviously it is in perfect condition; it's lived in a hat box the rest of its life. But now it needs to go and make its mark on the world again.
It cost me over $130, so I think the price is stupidly reasonable.
Price: $90
Mad Punks Lace-up Shirt – Size M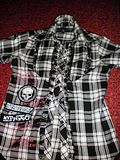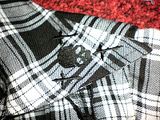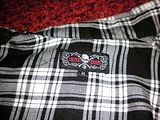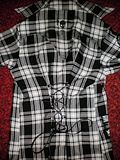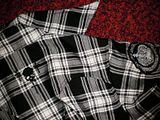 Fits between a small and a medium though is meant to be pulled nice and tight at the back. Just ask for measurements.
Got this in Harajuku years ago. Perfect condition and while it has no tags I actually don't think I ever wore it.
Price: $35
Leopard print suspender skirt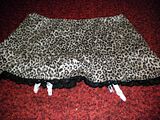 Very Nana-ish. This was a handmade job by a friend of mine, so no brand or tags. Perfect condition though and fits AU12.
Price: $10
Jay Jay's Shirt – Size S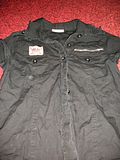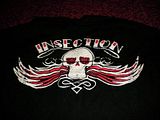 Very punk rock and looks great with the skirt above and some fuck off heels. Perfect condition and yes, it is meant to look tattered and ripped like that.
Price: $15
Leopard Print Vest – Size 10
Random leopard print fake fur vest. Very warm and soft. Worn maybe twice.
Price: $10
Sex Pot Revenge Long Sleeved Top – Size M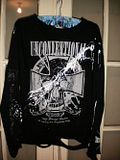 This top is awesome. Sadly it is too big for me now, and not really my style anymore. Got it down in Osaka which makes it pretty special. For those that don't know/realise, all the Sex Pot Revenge stores have the same stuff, but each one adds their own spin to the items.
This shirt has a material patch on the front side that says 'SEXPOT OSAKA FUCKIN' FAMILY'
It has 'Fuck you baby' written in silver down one arm, and the Sex Pot logo on the other. The sleeves have holes for your thumbs, turning the shirt into a sort of arm warmer. The entire thing is covered in white, grey and metallic silver graffiti and the bottom has strategic rips that hang down nicely over your belt.
It is really damn awesome and I am very sad to be parting with it.
Price: $50
Sexy Japanese/Korean Winter mini dress - grey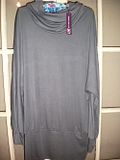 Brand new with tags. Really nice, just not quite my style. Also, it is a bit large. I got a size L just to be safe, but I would say that it would be more of an XL. Looks really boring on the hanger, so have included modelled picture to go with it.
Price: $10
Sexy Japanese/Korean winter off the shoulder mini dress – Purple.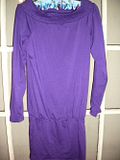 I wore this once and realised that I didn't like it. As new; perfect condition. Fits a size 12 comfortably. Looks really boring on the hanger, so have included modelled picture to go with it.
Price: $10
Beige slouch boots, Japan. Size 10
Never worn. Got them then decided that they weren't really my style (went and got different ones with buckles and studs. Ha)
Look great over skinny jeans with a flowy top and cute accessories. They have a tie with leather tassels on the outside.
Price: $12
Sex Pot Revenge Camera Case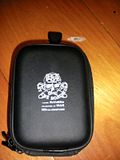 Fits all small digital cameras. In perfect condition though it doesn't come with a strap.
Price: $25
Sex Pot Revenge Bag and Phone Charms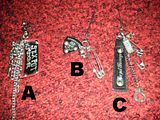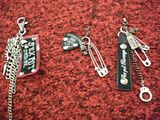 All have been used but are in a high second hand condition. Great thing with Sex Pot is the more it gets used, the more tarnished and puck it looks. All stones are still in place (A did not come with a red eye)
Price:
A - $12
B - $10
C - $15
Buy all 3 for $35
Sex Pot Revenge broach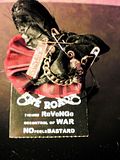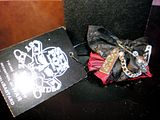 Got this in the Osaka store and loved it to death. But I have never worn it. It's been sitting in my closet for over 6 months now, so it may as well go. Tag is still attached and is marked at 1900yen.
It is funky and screams 'rockstar' with the black and red tartan. It is covered in safety pins and bits of chain, plus a skull with a sparkling eye.
PRICE: $20
Sex Pot Revenge Tumbler Glass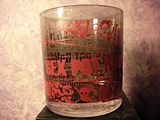 Another awesome thing that I never use. It just sits in its box. Thick, sturdy glass with the Sex Pot Revenge logo all over it, as well as graffiti. Clear and red.
PRICE: $12
Sex Pot Revenge Osaka Tin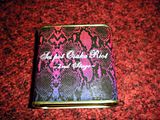 Came with lollies in it. All cleaned up and ready to be used for… well, I don't know what actually. Hence when I am selling it.
Price: $8
White Sparkly Pumps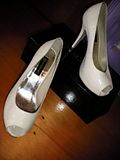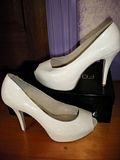 These are also amazing though I am never going to wear them. White shoes? Me? Drunk and staggering aorund. Ha, not a good idea and as usual, I didn't think of that when I got them.
They have never been worn but they have been tried on a few times; still in very good condition though. They have a pretty big sized heel, are shiny all over and have a cute little peep-toe thing going on.
Size 9
PRICE:
$20
Black lace up thigh high boots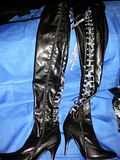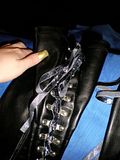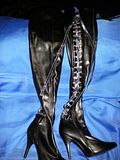 Now these are more like my usual shoes. However, I did just buy a new pair of boots that I like more, so it is time for these ones to move on.
I got them specifically for my last Japan trip, but it ended up being just a little too cold for me to pull of boots and skirt look so I only wore them twice I believe. Once was wandering around Kabukicho in Shinjuku and the other time was in Amerikamura in Osaka. At least they were worn to awesomely exciting places!
They are sexy as all hell and come up to the middle of your thigh. There is a zipper on the inside and they lace up the back. Originally they came with plain black shoe strings which I pulled out and spent ages re-lacing them closed with a sparkly black ribbon. Looks so much better and that is the way that I will be selling them.
Size 10
PRICE: $50
Pinstripe Burlesque Skirt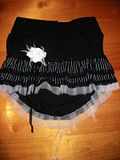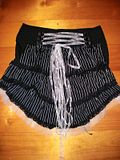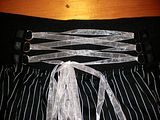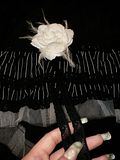 Super fucking sexy little skirt. I got it for Japan and tried it on once only to find that it was too big, so it sat too low, which in turn made the placement of the pockets look odd on me. I was very upset.
But it is a plain black pencil skirt with ruffles attached. Longer at the back and shorter at the front, it is seriously hot. Has a lace up effect on the back and a removable white rose attached to the front with a black bow underneath. It is all trimmed in lace and fits an Australian size 12-14.
Measurements taking lying flat, so double:
Hip: 45 cm
Length of front: 39cm
Length at the back: 58cm
PRICE:
$70
Lip Service Corset – Size XL (AU 12-14)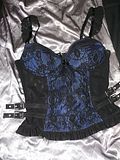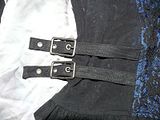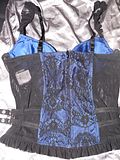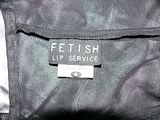 Gorgeous midnight blue panels overlayed with black lace make up the front and back of this top while the sides are see through black mesh. It is lightly boned and all metal fittings are of a dull 'tarnished' look to help keep the dark appeal. It zips up at the back and has two buckles on either side. Slight frill to the bottom and sleeves adds that element of cute to the dark piece.
Worn once for a special occasion. No longer the style that I dress in.
PRICE: $40
Dolce&Gabbana top/sweater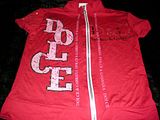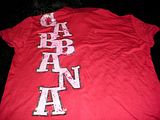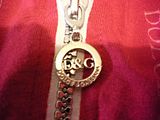 This was given to me as a present from my mother, but A, it isn't the best fit on me and B, I really don't think it is genuine.
In caps, just so no one feels deceived: I AM PRETTY SURE THIS IS NOT THE REAL DEAL.
However, having said that, it is actually a really nice top and it is only on overly close inspection that you can tell/guess that it is a fake. All diamantes are in place, all silver lettering is in perfect condition and it has never been worn. The zip has the usual circle emblem on it and the tag does read as 'D&G'
I have been holding onto it for ages as it is really stunning, but I am not one to wear fake designer, so I think it is time for it to find a new home.
Measurements taking lying flat, so double: size ?? – really stretchy material
Hip: 40 cm
Bust: 40cm
Length: 50cm
PRICE: $20
Black Powerhouse halter Vest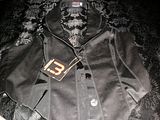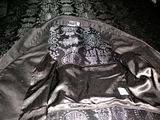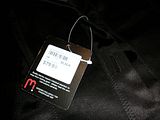 I had a thing for vests. I really don't know why; think it was some gangster style phase or something.
But this is truly stunning. Comes from the upmarket shop PowerHouse and is an amazing cut. Low at the front, it is actually a halter neck, leaving the back exposed. Can be worn over another shirt (almost a Ruki look there which was what I was going for) or as a shirt itself. I love the collar and big silver buttons make it really striking. The bottom is cut into a point and the whole front has darts of satin like material in a corset fashion.
Brand new, still with tags as shown in the picture. Worth $79.95
Measurements taking lying flat, so double: size 14
Hip: 41 cm
Bust: 47cm
Length: Hard to tell with the halter and all. Ask if you really need these details.
PRICE: $40
Black vest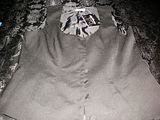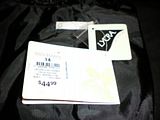 Again, another one, also brand new and with tags. I have this habit of just buying stuff and then putting it into my closet and never touching it again.
Not quite as nice as the one above, but still awesome. Square around the neck, buttons up down the front and has loops for a small belt just under the breast.
Measurements taking lying flat, so double: size 14 (really large 14 which is why I never wore it)
Hip: 53 cm
Bust: 49cm
Length: 35cm (from under armpit)
PRICE: $20
Sexy Red Halter – Size Medium (AU 10-12)
Stunning deep red v-neck halter. Ties up around the neck, giving a plunging neckline and a 'choker' effect.
As new, never worn but without tags.
PRICE: $8
Purple Top – size Large (AU 12)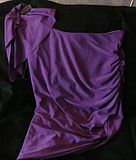 Brand new with tags. Lovely dark purple one-shoulder top. Bronze buckle on the shoulder that frames a mock sleeve. Gathered on the opposite side to provide that slim look.
PRICE: $7
Cute pink, silver and gold earrings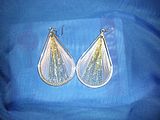 These are adorable. Got them in Japan and now the same sort of style is everywhere here. Shame.
But anyway, they have never been worn but they don't come with a tag or packaging.
PRICE: $3