Flash Jrock/VK/Jpop/Kpop sale.
So, here's the deal. I've accepted a job that requires me to move to another state. I don't NEED to sell any of this stuff, but extra cash and less storage (I'm not taking things with me) would be nice.
Bands include, but aren't limited to: The Gazette, 12012, MUCC, lynch., Merry, One Ok Rock, Nico Touches the Walls, JYJ, U-Kiss, CNBLUE and Sex Pot Revenge and GemCerey items.
The Rules.
- First of all, don't comment here. Email me directly at mistressminka@hotmail.com. Put something along the lines of 'Jrock sale' in the title so I know that it takes priority.
- Nothing is priced. Make me offers.
- I reserve to the right to refuse any offer. If that happens, you're more than welcome to try again with a better price. A lot of this stuff is very rare; I'm not parting with it for small change.
- First in and finalized/paid = best dressed. I'm not going to play anyone off on bidding wars. However I will not take holds and if another offer comes in and I don't hear from you in 24 hours then you forfeit the item.
- I'm not listing everything that I have because that would take me forever. Look at the photos, do your research.
- I will, however, double check to see if I have certain things as I know some of the spines can be hard to read.
- Anything sold, or straight up not for sale, will be listed.
- All items are in amazing condition. A lot of them are still sealed, or have been opened and slipped back into their covers. I will not be taking further photos of the insides of things due to time constraints. Here is my
ebay feedback
and more feedback can be found in this journal.
-Most things were purchased new while in Japan or from CDJapan etc, or, for the second hand items, they were handpicked for their quality by me in Closet Child and Book Off. I spent many hours sitting on floors rummaging and asking 'What's this? Do I need it?'
- All orders MUST be finalized (paid for with correct shipping addresses etc) by 5pm Thursday 24th of September, AEST. This gives me time to post out what sells and to pack up what doesn't. Check your timezones because anything later than that and it won't happen.
- Offers DO NOT include shipping. For ease of use I'm charging a flat rate, from Australia, airmail. Quotes will be given for larger orders, or orders that contain really heavy items.
Here are the shipping prices:
$12 for 1-3 normal CDs (singles, albums etc)
$18 for 4-7 singles/standard albums or up to 2 DVDs.
Magazines (actual magazines, not photobooks):
$15 for 1 and then $8 increments for each extra.
Photobooks (there will be a few exceptions for super heavy items, but this is a good guide of AusPost charges)
$18 for 1
$25 for 2
$32 for 3 etc
Random merch, so t-shirts, towels etc. Studded Gaz bag will be quoted as will the Sex Pot Revenge Fedora.
$10 for 1 then $5 increments for each additional.
Jewellery:
Listed on ebay and will only be sold through there. They go in a box and storage if the listing ends without a sale.
-
GemCerey and Nightmare 'Suck me' necklace
-
GemCerey and The Gazette 'Shiver' Ruki bracelet
-
Snaked Lows (Deal Design ft. The Gazette's Reita) ring
, size 8 (so small!)
- Remember rule one. Comments tend to get lost or marked as spam these days, so email me.
- Please ignore the state of my room; I'm obviously in the process of throwing things around into boxes etc.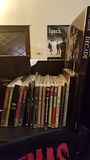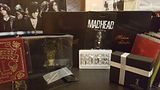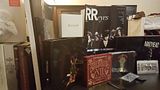 Division, NIL, Toxic and Beautiful Deformity are NOT for sale.
'Give me Noise' bear speakers… I'd be loathed to part with, but will concede for the right offer.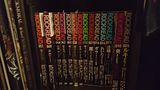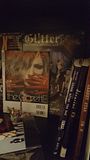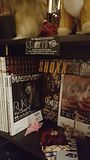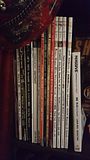 * That there is actually a silver studded Gazette overnight bag. I just forgot to take photos of it.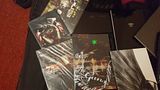 * Super rare.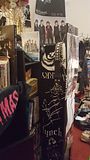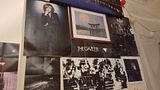 - Small posters from Beautiful Deformity not for sale.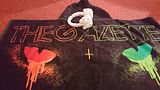 Yes, the random Hello Kitty earmuffs are also for sale!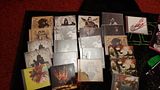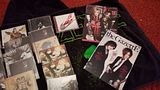 lynch: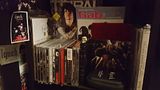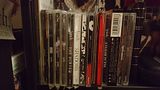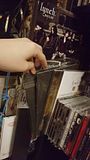 I have Underneath Files 1-4, and all the bootlegs as well, you just can't really see them with the angle.
Sex Pot Revenge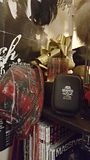 Fedora, tumbler and camera case
Tote bag
CDS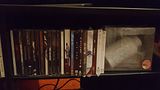 Kpop